SEO web designing and developing websites creates search friendly. Developing your website with SEO friendly means that all pages will be crawl on the website and index it in their database. Once indexed, they can perform the most applicable and relevant web pages to their users based on the topics they search for. The SEO team is combined with the web designing process to make their website on top of the search results. The basics which must known everyone to create an SEO friendly website.
Designing a professional looking, well designed website will not make your site more traffic or increase your customer base. If you want to increase your website traffic, you will need to use search engine optimization (SEO). The SEO techniques which are used to improve a websites visibility and thus ranking with search engines.
SEO is a major part of your online presence. If you work SEO correctly, the website will get rank higher in search engines. Today, most of the people use search engines and they can view the top results of the page. So, you can create your website with SEO optimization will increase organic traffic and your website will reach the top position. The first five position is more important, because users can view only those results.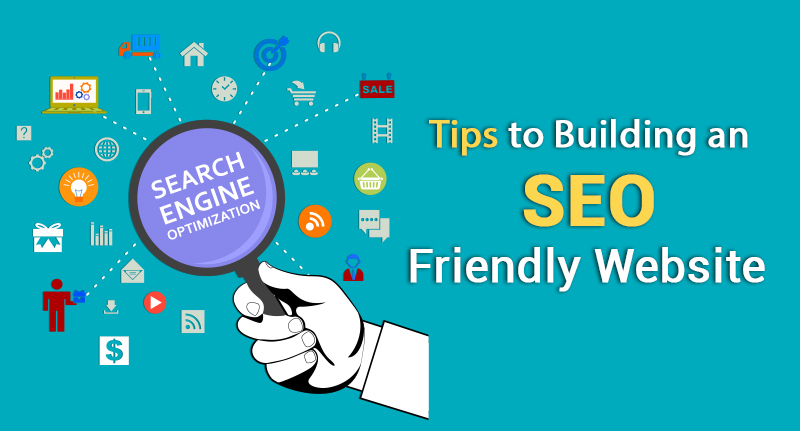 SEO friendly on-page optimization:
On-page optimization contains SEO strategies that are managed by the website owner. These procedures plays an important role in how the search engines crawl and understand your content.
Procedures contains:
Managing keyword research, choosing the right keywords and topics and using them in relevant places on the page.
Include Meta title tags, Meta description tags, image alt tags, header tags correctly
Making a URL structure which is optimized for search engines and users.
The quality contents of your website will get inbound links on off-page optimization methods.
Using multiple kinds of content like lists, text, images and videos.
Creating a responsive website design which offers a huge experience across devices.
Creating a website that is visually appealing, indicates your brand, and has a stable look and feel.
SEO Friendly Off-Page Optimization
Off-page SEO optimization mention the performance of the marketing and increase a website. It makes in gaining links and social media specifies which can increase the control of your website, resulting in an increase in SEO traffic and rankings.
Basics of SEO Techniques contain:
Examining your competition to know what methods they are using to rank in the search results.
Include anchor text in your important keywords.
Gaining inbound links from websites which are identified authorized by the search engines.
Gaining links to content deep within your site.
White Hat and Black Hat SEO
SEO techniques can be divided into two categories; white hat contains SEO procedures which include positive plans for increasing traffic and an audience naturally for using search engine guidelines. But, the black hat techniques are not focused on humans, they are target only search engines and this techniques are against search engines guidelines. Most of the SEO companies focus on white hat techniques.
White Hat Techniques
The above specified methods are considered white hat and add value to a website's SEO offer the best web design knowledge and can improve traffic, rankings and sales from Google and other search engines.
Black Hat Techniques
The black hat techniques are not comes under the rules of Google. These techniques are used in the past to reach high rankings shortly. So, the search engines have updated their algorithms to observe such techniques and are continuously using machine learning to detect addition spam technique proposed to work the SERPs.
Buying links
Hidden links and content
Hiding links on your website
Selling links
Link farming
Keyword spamming
Article spinning
Cloaking
Target Keywords in Your Content and Tags
Keywords are the important one to index your site in search engines and improve your rankings in search results. If you want to rank for "Paper manufacturing company" then your website have the word "Paper" so that it occurs when people search for that word.
On-site optimization starts with keywords which includes title tags, Meta description and contents.
The keywords which must be placed in your content
The first paragraph of the copy.
In the beginning of your title tags.
One of the heading tags such as H1, H2 and H3 have your keywords.
In your URL
Meta description tag
Image alt text
The important thing is your keywords should not be using in the anchor text for hyperlinks. It is called keyword cannibalization.
Optimize your website with mobile friendly
Now, Google is pushing web designers to focus on mobile friendliness. So, for your web designers to create a mobile friendly website. Most of the internal traffic comes from mobile devices. If you want to check your website with mobile friendly, visit Google's Mobile-Friendly Test.
Get Help from a Dedicated Team of Experts!
If you want to know more about designing an SEO friendly website. The best thing you can do for an experienced professionals who can support your website. Skew Infotech has one of the best web designing company designed and maintained various business. If you have any questions about SEO and web designing services visit our website.