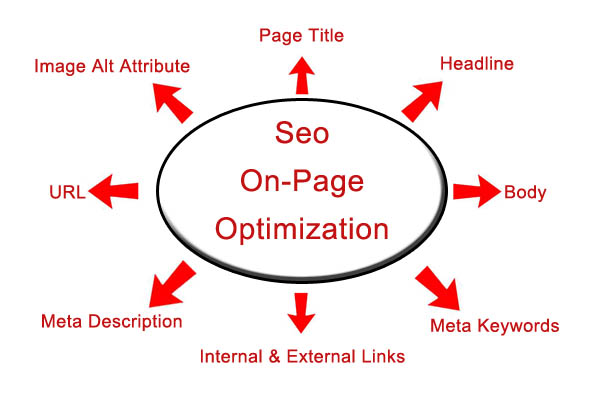 Today, SEO is an important process to get your website in top of the search engines. It may be your product or services. Nowadays, SEO helps all the small companies can use this process for their business. SEO is comes with an affordable cost and thus helps most of the companies can earn a good business. Now, there are so many SEO companies can run their business in a decent market. When it comes to optimizing a website, there are two important factors can play in SEO they are :
On-page optimization
Off-page optimization
We will discuss about the articles of SEO on-page optimization. The best on-page SEO techniques is helps to improve your website rank better in major search engine rankings.
On-Page SEO :
On page SEO refers various parts of your website that affect your search engine rankings. There are different types
Title

It is the important on-page SEO techniques. The title you will given is between 60 to 70 characters. The most important thing is you must give your targeted keywords in your title.
Permalink Structure
An important on-page metric is to making your URL is displayed correctly. You should use your target keyword in the URL. You should not use any symbols, special characters, commas, brackets, etc.,
Example of a permalink:
https://www.domain.com/seo-companies.php
Heading Tags
You can use targeted keywords for your heading tags and don't use many header tags. Use your targeted keywords in H1 or H2 tags.
Keyword Density
The targeted keywords for your page has not more than 1.5% percent of keyword density. So, you can use your important or targeted keyword in the first paragraph and also use in the last paragraph. You can also use the keywords in the content where it makes sense.
Meta Tags and Descriptions
You should add a unique and relevant meta description for each page of your targeted keywords.  The meta description contains 155 to 160 characters. The meta description helps users to click your URL. The most important thing is you need to write user-friendly meta descriptions that are related to your post.
Images
Image is also an important part in SEO. It helps to driving traffic from image searches. Your targeted keywords in the " image title" and "alt text" helps to make your page more focused and targeted.
Internal Linking
If your targeted page has an interlinking, you can use the keyword as your anchor text for interlinking. But, very careful for your anchor text, please not to overdo it. Internal links are relevant to the page that show search engines that are offering extra details beyond what is being showed in the content. You're interlinking is necessary and relevant to your website.
We Skew Infotech is the leading SEO Companies in Coimbatore to get your business in top of the results in major search engines.